DON´T MISS!
The 4 Top Eyeliner-Trends
08 / 2019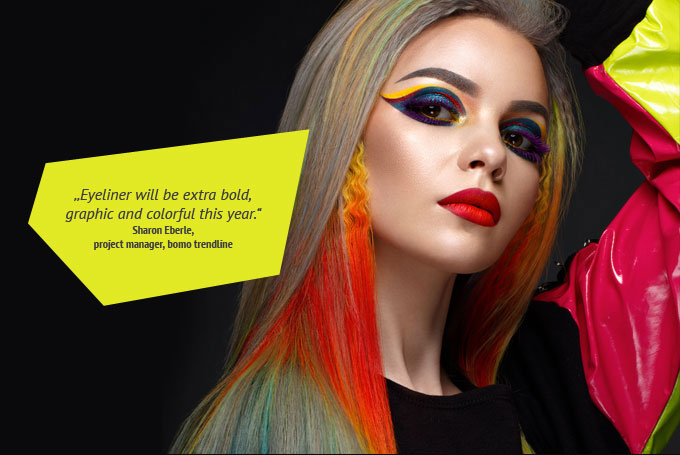 The eyeliner - our constant companion, now sets the eyes in scene. The classic eyeliner is now worn as Double Wing, Graphic Eye, Underline and Cat Eyes.
For these cool looks, smudge-proof eyeliners with finer tips are suitable, whether classic black or in a trendy color. The trend can be created simply and precisely. Especially for graphic and sophisticated looks is the Duo Eyes perfectly suitable with the combination of two tips.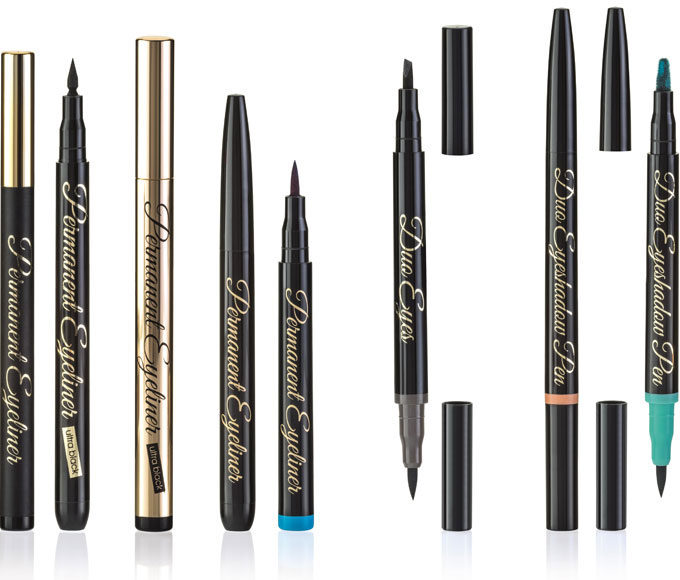 Double strong:
Double Winged
We all know the winged eyeliner, but let's introduce a new version. The double winged eyeliner. It's like a winged eyeliner, but much more edgy, and let's face it ... we all need to modernize our look from time to time. For the double winged eyeliner, the wing is painted twice, once on the top and once on the lower part of the eyelid, and best in two different colors.
Product recommendation: Duo eyeliner with standard tip 1 and block applicator 4
Use tip 4 for the black statement wing and with tip 1 you can then let the colored wing run out perfectly.
Graphic Eyes for clear lines
We are waiting in vain for a perfect tutorial guide here! Why? The wings are wide, the lines intense and color should come into play. This means you can "graphically" let off some steam on the eyelids. And yes, the catwalk look is also suitable for everyday use!

With natural make-up, red lips and a graphic eyeliner, you can upgrade your everyday outfit in seconds, and are ready for that afterwork cocktail.
Product recommendation: Duo eyeliner with standard tip 1 and Flocki tip 6
For this you can basically use any eyeliner tip 1-6. The Flocki tip 6 is ideal for coloring larger areas. Tips 1-3 can be used to create defined lines.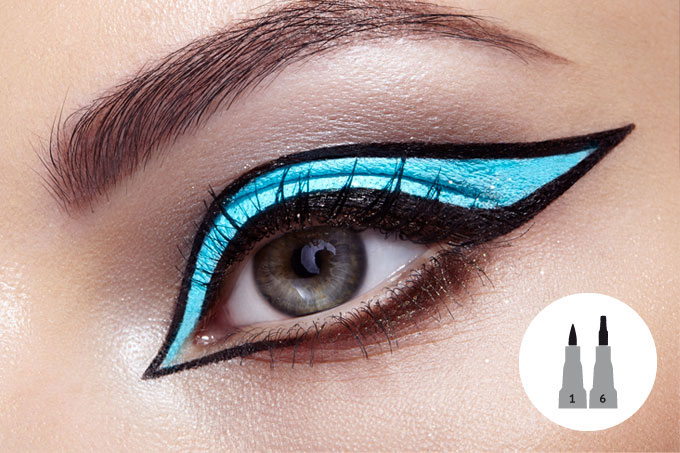 Strong statement:
the Underline
By the underline trend, the eyeliner is not applied to the eyelid, but under the eye. The eyeliner should almost end at your eyebrows, so the eyes are optically elongated and get a slight cat's eye shape. For the perfect red carpet look, you can use a colored pen. Trendsetters swear by blue eyeliner.
Product recommendation: coloured eyeliner with applicator 2 or 3
For a more discreet colored underline, our thinner applicators, standard small applicator no. 2, or the ultrafine tip no. 3 are best suited. If the underline should be smooth you should reach for the Flocki tip here.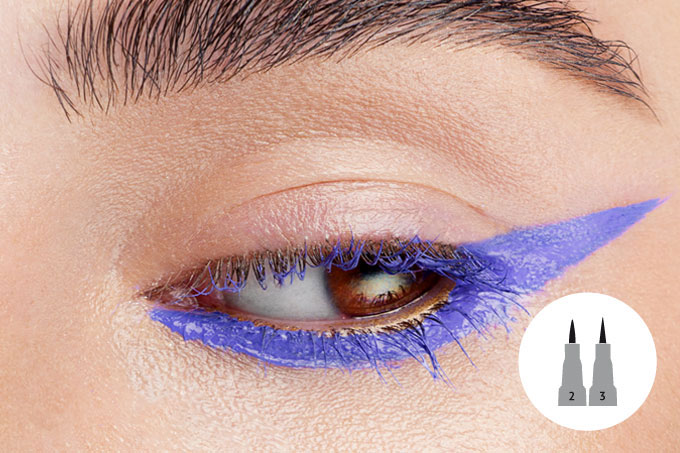 Cat Eyes in the
XXL-Version
XXL Cat Eyes is the fine art of make-up. Perfectly done, they make us look dramatic, exciting and sexy. If you have two left hands, Cat Eyes will quickly give you an unwanted raccoon look. Until now! With our eyeliner pens, Cat Eyes are no longer difficult to make.
Product recommendation: Eyeliner with block applicator 4 or Tulip tip 5, alternatively Duo Eyeliner with standard tip 1 & block applicator 4 or Tulip tip 5.
Use our eyeliner with the Tulip tip for perfect lines, and to paint the black surface you keep the tip slightly slanted. In order to get an even more edgy look, our eyeliner with the block applicator 4 is also suitable for this.