Brow Creator
Eyebrow Designer & Finalizer
05 / 2020

EYE TALK – in times of high demand for eye products, bomo trendline shows its innovations in this area. The innovative repertoire of eye products and a lot of know-how offer pioneering solutions for future product concepts. We are showing the latest trends today.
---
Brow Creator
New in the product range: The Brow Creator pen with the four-part tip. The applicator is perfect for precisely drawing the eyebrows and filling the gaps. The result: natural- looking eyebrows with a microblading effect - without any pain!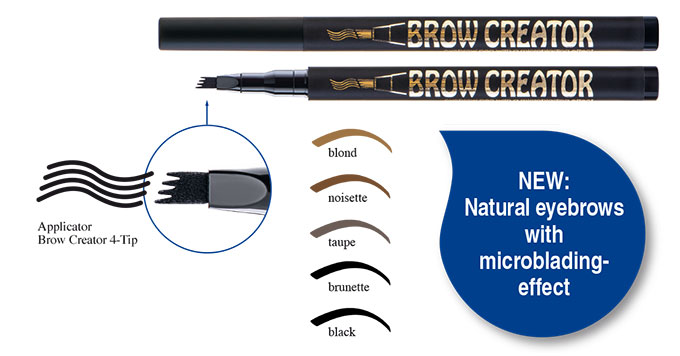 ---
Eyebrow Designer
With the Eyebrow Designer you can tone, contour and shape the eyebrows in one step. The specialty of the comb applicator is that only the hair is tinted and not the skin. Gray hair is also perfectly concealed, which makes the eyebrow designer attractive for HIM and HER. Increase opacity by repeating.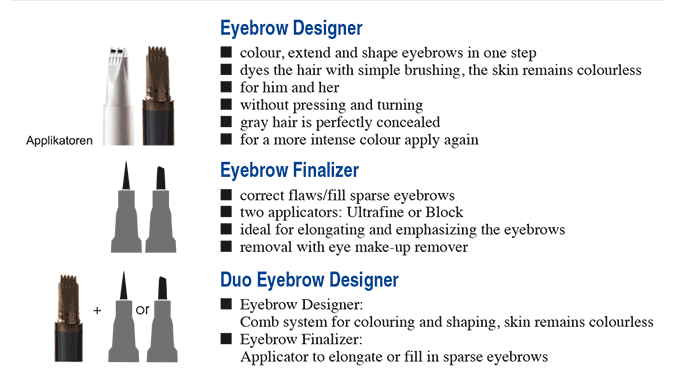 ---
Eyebrow Finalizer
The Eyebrow Finalizer helps to fill in gaps. It is also suitable for extending the contour of the eyebrows. The applicators: Ultrafine nib or block applicator. Tip: The two pens, Designer and Finalizer, can also be combined as a 2 in 1 pen.